Cottage Berkenthin
The sweet little brick-made Cottage is located in our garden directly at the riverside of the Elbe-Lübeck-Kanal, beneath the 800 year old church.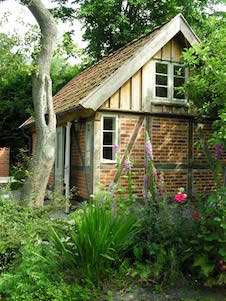 Inside our Tiny House you will find one open room, reaching the cealing, with integrated kitchen. The seperated bathroom provides a shower-cabin, a toilet and a washbasin. You will reach the tall bed, located directly under the roof, by a fixed vertical ladder.
The walls are made of loam as well as the flags, which is a traditional and ecological craft to dam houses and gives them a special climate.
Via the eastern window you have a nice look at the brickmade church. At the other side you will find a terrace. Sitting here, you can enjoy the sundown by drinking a glass of wine, watching ships passing by or just enjoy the natural life surrounding our pond.
Since summer 2015 we can offer a new holiday home – the "Atelier". It is connected with our home house at one corner of the building.
And it is also suitable for two persons.